Robert Nopera TANGAROA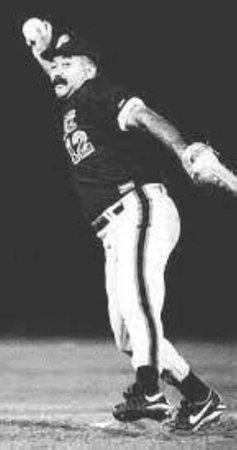 Robert (Chubb) Tangaroa was born in Levin in 1963. He had been a chubby baby and from three years old he remembers being called nothing but Chubb.
The family lived in Meadowvale Drive. During his childhood there were only fields between their home and his primary school Levin East. Plenty of room to play sports.
Chubb was the middle of three brothers. William the older had first choice and batted. Mac the youngest had to do all the chasing. Chubb, with his build became the pitcher.
The family was a sporting one. His father played rugby & basketball. His mother was a Horowhenua representative in both softball & netball. At Waiopehu College Chubb was in the first XV but softball was his focus. At 14 he was a Horowhenua representative, understudy to the No 1 pitcher.
On leaving college he moved to Christchurch where he enrolled in the Maori Trade Training programme and learned the skills of painting and paper-hanging. He became a Canterbury rep & was then selected into the NZ B team in 1982.
He was now, annually, spending the northern summer season in the US, returning for the NZ softball season. Five times he was selected in ISC's All World First Team.
Back in NZ he had narrowly missed selection in the 1984 Black Sox side that won the world title. Inspired by Kevin Herlihy he started believing & playing more professionally. By 1986 he was a certainty in the Black Sox. Disappointments came with losses in finals at the World Championships. Finally it came to pass in Michigan in 1996, with NZ unbeaten throughout the tournament with Chubb a member of the potent pitching line-up.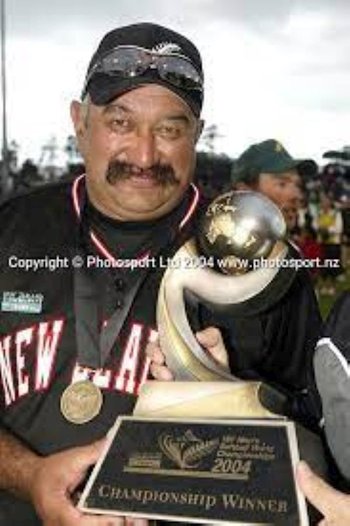 He continued his US career until 1999 when health issues forced his playing retirement. However in 2000 he was recruited to be the Black Sox pitching coach helping the team to win World Championships in 2000, 2004 & 2013.
Once well, Chubb secured a teacher's aid post at a bilingual school in Havelock North. By 2005 he had his primary teaching certificate & these days is Head of Physical Education at Te Kura Kaupapa Maori O Ngati Kahungunu ki Heretaunga near Hastings.He has also had his own pitching & catching academy in Hastings  for the last four years.
He married Jacqui Tatu in 1993. They have six children. Daughters Pare & Michal & son Isaiah have played softball at representative level. Michal has pitched for the White Sox (the NZ Women's team). The Tangaroa name lives on in softball.
Relatives mentioned in profile:
Robert Nopera TANGAROA, Jacqui Tatu, Paretone Tangaroa, Michal Tangaroa, CJ Tangaroa, Isaiah Tangaroa, Ihaka Tangaroa, Nopera Tangaroa, William Hori Tangaroa, Maxine Tatana
We thank the following sponsors of this plaque: