Walter Mace CLARK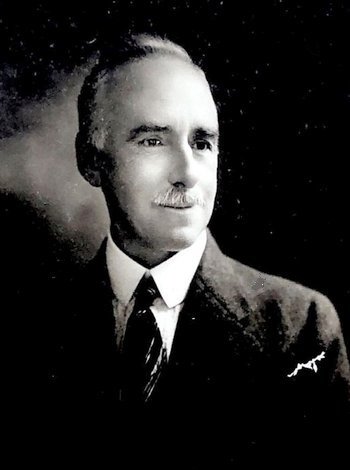 Walter Mace Clark was born in Wellington in 1870.
His father, William, and uncle, Joseph, arrived in NZ in 1840 as young children to the care of their Aunt, Louisa Fitchett.
In 1854 William started a drapery business in Wellington, where Walter would later train. He was educated at Wellington Terrace School and Wanganui Collegiate School.
When Walter left school he joined his father in the business. A year later, to gain experience, he went to Melbourne where he stayed for two years. He returned to Wellington and a job with James Smith of Te Aro House. He had charge of men's clothing & tailoring. He then went on the road as a traveller to the Wairarapa and southern Hawkes Bay riding a horse and with a pack horse and sometimes a dog cart.
He was transferred to Taranaki where he met and married Maud Phillips in 1895. They had four children.
Walter arrived in Levin in 1892 to open a branch of Te Aro House. Two years later he took over the business.
W M Clark, drapery, dominated the clothing trade for 84 years until 1984. Two of his sons took over the business, Bill the menswear & Elsdon the drapery. Although considerably down in size the business is still run today by the descendants of Walter.
Walter had an interest in the progress and welfare of the Town. He was actively involved with the volunteer fire brigade, the vigilance committee, the first Levin Tennis club, the Levin Racing club, Horowhenua A & P Assocation, Levin Bowling Club, Levin Club, Levin Golf club, Levin Silver Band Society and the Horowhenua Lodge of Freemasons.
He was active in the business until 12 months before his death in 1934.
He was described as 'one of nature's gentlemen'. He always gave liberally of his time and any deserving project could always rely on his support.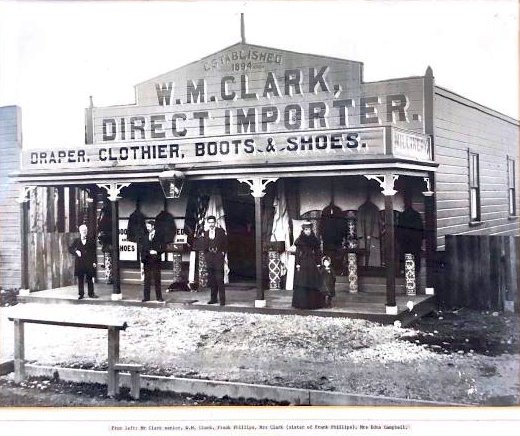 Relatives mentioned in profile:
Walter Mace Clark, Maud Annie Phillips, William Clark, Margaret Bevan, George Bevan Clark, Joseph Masters Clark, Margaret Caroline Clark, Walter Robarts, William Buddle Clark, Samuel Budget Clark, Julie Maria Clark, Thomas Lewis Clark, Millicent Beatrice Clark, Lottie Mayfield Clark, Alexander Scott, Minnie Geraldine Clark, Thomas William Witt, Edna Maria Hinetaupiri Clark, Hugh Duncan Campbell (Jnr), William Gray (Bill) Clark, Thomas Henry Clark, Elsdon Walter Clark, Edna Maud Campbell, Sydney Hinde, Judith Hinde, Robin Hinde. Hugh Ian Duncan Campbell, Margaret Jean Lumsden, Hugh Hamilton Campbell, Neil Ian Campbell, Janet Sheryl Campbell, Donald Lachlan 'Don' Campbell, Fay Marion Tabor, Karen Fay Campbell, Jenette/Jenny Helen Campbell, Donna Elizabeth Campbell, Tracey Lee Campbell, Dawn Clark Campbell, Ian Malcolm Juno, David Juno, Paul Juno, Denise Juno, Bryan Mace Campbell, Myra Lois Hewitt, Maurice Campbell, John Campbell, Samuel Campbell, William Campbell, Trevor Elsdon Campbell, Kay Tyson Collins, Bevan Campbell, James Campbell, Cushla Clare Campbell, Edith Evelyn Lawrence, Mary Isobel Lawrence, Marjorie Lucy Ede, Garry Campbell, Kevin Campbell, Carolyn Campbell, Neil Campbell, Peter Campbell, Douglas Elsdon Campbell, Rona Easton, Brian Campbell, Glenis Campbell, Ross Campbell, Frances Alma Campbell, Lloyd Nicholls, Jock Cormack, Murray Lloyd, Margaret Bevan, Thomas Bevan, George Bevan, Edward Bevan, Henry Bevan, Mary Bevan, Thomas Bevan, William Bevan, Nugent Bevan
We thank the following sponsors of this plaque:
Clarks Clothing - Taper Eatery